Description
It is the simplest and most commonly used PFC circuit, consisting of a single boost converter. The desired current waveform can be generated by switching operation, and the power factor can be made close to one.
Overview
- Typically SJ MOSFET and SiC diodes (or FRD)
- Efficiency around 98%
- Frequency 70 kHz to 130 kHz
- Full load and nominal efficiency only guaranteed for 230 V AC
Circuit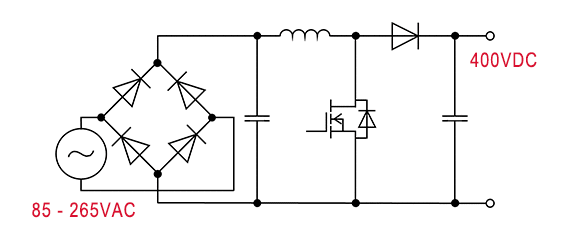 Key Products
Product Category
Product family
Product Number
Feature
Switching Transistor
600 / 650V SJ MOS
R60xxKN /R65xxKN
Good compromise between performance and ease of use.
650 V IGBT
RGWxx series
IGBT proposal for lower cost, but comprising efficiency.
Diodes
650 V SiC SBD
SCS3xx series
Increased surge current mode capability of 3rd gen.
650V Si FRD
RFS series
Lower Vf than RSV series, but ultra fast switching capability
RFL series
Improve fast switching capability than RFN series.
600 V Si FRD
RFV series
fast trr for CCM PFC (600V only)lower cost solution vs SiC SBD
RFN series
low VF for DCM PFC (600V only) lower cost solution vs SiC SBD
Gate Driver
Isolated
BM61xxx Series
1ch 3750Vrms isolated, for devices including driver source pin.
non-Isolated
BD2310G
1ch non-isolated, simplest solution available.
Simulation
Related Topologies