3-phase 2-level full bridge PFC (Bidirectional)
Description
This type of three-phase bridge PFC is used when bi-directional power conversion to and from the three-phase AC grid is required. It is compatible with 170-480V, 3-phase power supply, and VBUS voltage up to 1000V is assumed.
Since it can be used for various power conversion applications, it can be used in EV-mounted On Board Charger and power storage systems.
Overview
- 3-phase PFC
- Achieves high efficiency
- Support Bi-directional operation
Circuit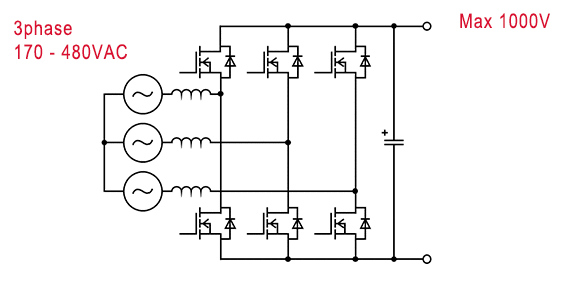 Key Products
Product Category
Product family
Product Number
Feature
Transistor
1200V SiC MOSFET
SCT4xxxKx series

NEW

The latest SiC MOSFET device. Enhanced low on-resistance enable best in class performance. It supports 1200V withstand voltage, ideal for higher voltage applications.
SCT3xxxKx series
Trench-gate SiC MOSFET with low on-resistance (50% reduction) compared to conventional products.
1200V IGBT
RGSxxTSx2 series
1200V IGBT Integrating very fast & soft recovery FRD
SiC Power Module
BSMxxD12 / D17Pxx
1200V/1700V SiC Power module with Half bridge topology
Gate Driver
3750V voltage tolerance
BM61x4xRFV
1ch configuration, 3,750Vrms isolated type Gate Driver, can be used for switching devices with current source pins.
Simulation
A-019. 3 phase 2-level full bridge PFC 3-wire
A-020. 3 phase 2-level full bridge PFC 4-wire
Related Topologies