BD7F200EFJ-LB
Optocoupler-less Isolated Flyback Converter
This product guarantees long time supply availability in the industrial instrumentation market. BD7F200 is an optocoupler-less Isolated Flyback Converter. An optocoupler or the tertiary winding feedback circuit which was needed to obtain a stable output voltage isolated by a transformer in the conventional application becomes unnecessary, thus, the number of parts is reduced drastically, producing a small-sized and high-reliability application isolated type power supply. Furthermore, a highly by the use of the Original Adapted-Type ON-Time Control Technology, it makes the external phase compensation parts become unnecessary, therefore a highly efficient isolated type power supply application can easily be produced.
Product Detail
사양 :
Output Power [W]
5W@Vin=12V 10W@Vin=24V
Switch Current Limit(Typ.)[A]
2.75
SW frequency(Max.)[MHz]
400.0
Thermal Shut-down
Recovery
Under Voltage Lock Out
Yes
Operating Temperature (Min.)[°C]
-40
Operating Temperature (Max.)[°C]
125
특징 :
Guaranteed long time supply availability for Industrial Applications.
No need for an optocoupler or a transformer tertiary winding. The output voltage can be set by two external resistors and the transformer turns ratio.
Uses Original Adapted Type ON-Time Control Technology. High-speed load response is realized and external phase compensation parts are unnecessary.
Fixed switching frequency and low output ripple
Highly efficient light load mode available
(PFM operation)
Shutdown / Enable Control
Built-in N-Channel MOSFET
Soft start function
Output load compensation function
Protection functions:
VIN Under Voltage Lock-Out (VIN UVLO)
Over Current Protection (OCP)
Thermal Shutdown Protection (TSD)
제품 개요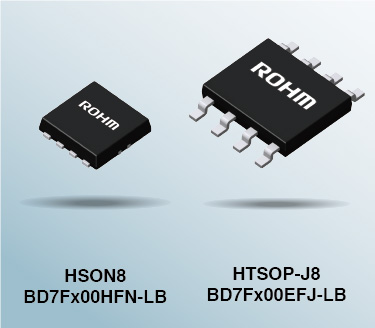 절연 전원의 출력전압을 안정시키기 위해서는 일반적으로 유한 수명 부품인 포토 커플러나 보조 권선을 사용하는 방식이 활용됩니다.
로옴은 이러한 피드백 회로가 필요없는 절연형 플라이백 DC/DC 컨버터를 개발하였습니다. 심플한 절연 전원의 구성이 가능하여, 고전력을 취급하는 인버터 및 축전 시스템, FA 기기 등 산업기기의 전원에 최적입니다.
샘플 / 평가 보드 구입
BD7F100xxx-LB / BD7F200xxx-LB 시리즈와 더불어, BD7F100HFN-LB를 탑재한 평가 보드「BD7F100HFN-EVK-001」의 인터넷 판매도 개시하였습니다.
본 평가 보드를 통해 입력전압 24V, 출력전압 5V, 출력전류 800mA의 절연 전원을 간단히 평가할 수 있습니다.
제품 라인업
품명
데이터
시트
패키지
출력전력
입력
내압
입력
전압
범위
과전류
제한
스위칭
주파수
동작
온도
기능
BD7F100HFN-LB
HSON8
(2.9×3.0×0.6mm)
1W(Vin=5V)
5W(Vin=24V)
45V
3.0~40V
1.25A
400kHz
(Typ.)
-40℃~+125℃
Enable Soft Start Efficient Light
Load Mode UVLO Over Current
Protection Theminal Protection
BD7F100EFJ-LB
HSOP-J8
(4.9×6.0×1.0mm)
BD7F200HFN-LB
HSON8
(2.9×3.0×0.6mm)
10W(Vin=24V)
8.0~40V
2.75A
BD7F200EFJ-LB
HSOP-J8
(49×6.0×1.0mm)
특징 1 : 포토 커플러 & 보조 권선이 필요없어 소형화 실현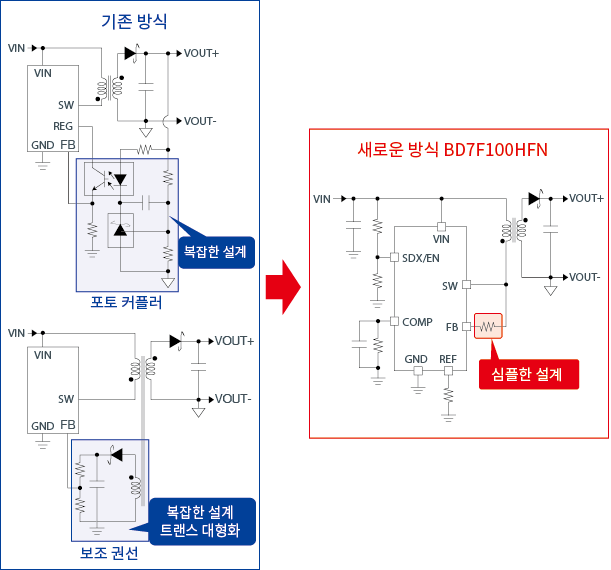 1차측에서 피드백을 실행함으로써, 기존에는 2차측의 전압 · 전류 검출을 위해 필요했던 포토 커플러 또는 보조 권선, 이를 구성하기 위한 부품이 필요하지 않습니다. 따라서 설계의 간소화와 더불어 소형화, 저전력화, 신뢰성 향상까지 동시에 실현할 수 있습니다. 저항 1개로 출력전압의 안정화를 실현합니다.
특징 2 : 적응형 온 타임 제어로 부하 응답 특성 개선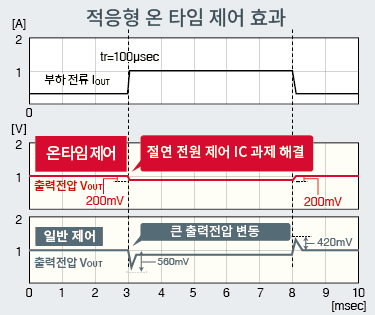 기존의 절연 전원 제어 IC에는 순간적인 부하 전류의 변동에 따라 출력전압이 크게 변동한다는 과제가 있었습니다.
이에 로옴은 기존의 비절연형 전원 제어 IC에서 실적을 보유한 온 타임 제어를 절연형 전원 제어 IC에 새롭게 응용하였습니다.
이러한 적응형 온 타임 제어를 통해 일반 제어 방식에 비해 65% 이하인 출력전압 변동 200mV (부하 전류 1A, Turn-on 100µs 시)를 실현하여, 순간적인 부하 전류 변동에 대해 부하 응답 특성을 개선함으로써 신뢰성 향상에 기여합니다.
관련 정보
뉴스
>
Evaluation Board
BD7F200EFJ-EVK-001

BD7F200EFJ-EVK-001 Evaluation board delivers four outputs 15 volts from an input 24 volts using BD7F200EFJ-LB, Isolated Flyback DC/DC converter integrated circuit, with output current rating of maximum 0.15A
Evaluation Board
BD7F200EFJ-EVK-002

BD7F200EFJ-EVK-002 Evaluation board delivers an output 5 volts from an input 24 volts using BD7F200EFJ-LB, Isolated Flyback DC/DC converter integrated circuit, with output current rating of maximum 2A
Design Resources
Documents
User's Guide
Evaluation Board User's Guide for BD7F200EFJ-EVK-001 user's guide
Evaluation Board User's Guide for BD7F200EFJ-EVK-002 user's guide
Reference Design
BD7Fx00xxx-LB Series Reference Circuit
Technical Articles
Schematic Design & Verification
파워 측정 시, 프로브 교정의 중요성 : Deskew 편
바이패스 콘덴서의 임피던스 특성
Tools
2D/3D/CAD
BD7F200EFJ-LB Footprint / Symbol
HTSOP-J8 Footprint / Symbol
HTSOP-J8 3D STEP Data
Packaging & Quality
Package Information
Package Information
Anti-Whisker formation
Environmental Data
UL94 Flame Classifications of Mold Compound
Compliance with the ELV directive
REACH SVHC Non-use Declaration
RoHS Comission Delegated Directive
Export Information
The Export Control Order
Export Administration Regulations(EAR)